Woke up at 5am this morning to get myself prepared for the flight back to Sandakan!
Upon arriving KLIA, there was a huge crowd of people. All MAS Airlines passengers onboard domestic flights had to check in at Counter B and this time instead of checking in at respective counter according to the destination, all of us were left with no choice but to queue up for common check in. The line was made up of people travelling to Bintulu, Sibu, Langkawi, Kuantan, Kota Kinabalu, Sandakan and so on. Therefore, you could imagine how long the queue is. I even worried we may not be able to check in in time, judging by the crowd that's there.
Met a friend of Iris when we were queueing up so we offered him a place to stand with us instead of queueing up from the start. I met a high schoolmate of mine too when I was in the departure hall.
It came to a point where a special counter had to be opened to cater for those flying to Kuala Terengganu or Kuching, I can't really remember because the closing time for check in is near or dued but they were still people left lining up amidst the long queue. A lady even had to run to the boarding hall, with her high heels took off to catch her flight.
When we were on board the plane and was seated on the emergency exit row on the right side of the plane, Iris and I saw our primary school teachers seated on the left row. (Iris and I, we attended the same primary and secondary school.) Iris wasn't sure whether the teachers could remember her. I for sure knew they wouldn't be able to recognise me, given the fact that I've graduated from the school 12 years ago.
To our surprise, they remembered us!
After that, more passengers boarded the plane and I was just checking whether I get to meet other people that I know. In came a girl, who used to be my primary school classmate. We smiled and she asked, "Which hospital are you working in?"
I felt funny why she asked me that and before I answer her, she asked, "Or which pharmacy?"
"No, I studied IT."
She felt weird then for I guess she might have heard from someone somewhere that I studied medicine.
In fact, coming to think of it now, I could just say I work in a psychiatric hospital since lately I deal with lots of customers with emotional disorder.
In came another girl, my highschool mate who's working as an engineer. We just smiled and waved.
Food was not good since we were left with no choice but to have nasi lemak with squid. Omelette would have been a better choice.
After 2 hours and 45 minutes, Sandakan greeted us with such warmth and hospitality. I went a bit crazy when the plane landed because I was saying "Yes! Yes!" to Iris, who also seemed very excited and happy to be home again. Same goes to the fella, down here.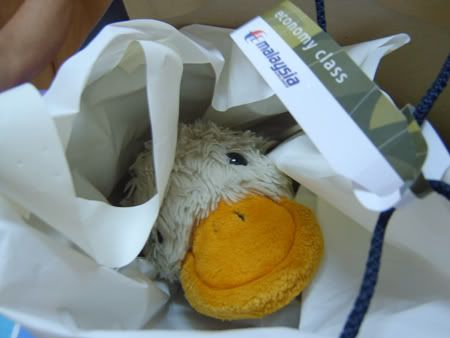 While waiting for our luggage, I could see Pappy waiting outside. Then, he came in without me realising and he gave me a hit on the butt. He does it when he sees me. Mummy came too and we went for lunch and rode in Pappy's newly bought ancient model of Mercedes Benz with Toyota engine. Cool! It was my first time riding in it today!
Lunch was yummy and was accompanied with Mummy's own made barley drink when we reached home. It's Purple Barley, boiled with a plant with purple leaves.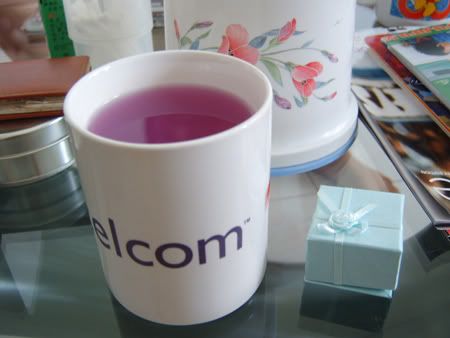 It's so good to be home! 😉